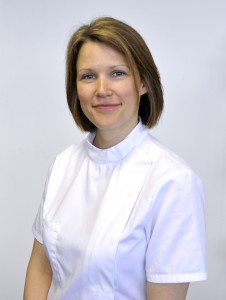 Camilla graduated with a Masters of Osteopathy following a successful career in personal training and sports massage. She combines structural and classical approaches to Osteopathy with Posture and Movement Education and Western Medical Acupuncture. Osteopaths study for between four and five years gaining an in-depth knowledge of human anatomy, physiology, neurology and musculoskeletal medicine.
Patients like Camilla's integration of soft tissue massage and acupuncture with joint manipulation and articulatory techniques. While Camilla believes easing her patient's symptoms to be a primary starting point she is most passionate about injury prevention and rehabilitation. She believes that poor movement patterns underly the majority of soft tissue injuries whether they relate to your work, hobby or sporting activity. Camilla uses a variety of functional assessment strategies to identify these probable causes. She then takes time to educate her patients and guide them through individualised corrective exercise for longer lasting effects.
Currently, Camilla is representing OSCA (Osteopaths in Sports Care Association) on their Internship Programme at Lee Valley Athletics. As part of the Speedworks multidisciplinary healthcare team, Camilla is working to towards creating the next generation of Olympic sprinters coached by Jonas Tawiah Dodoo.
Over the past six years, Camilla has gained a wealth of experience treating a wide range of conditions and sports injuries. As a mum and keen sports woman, she understands the unique physical and mental demands placed on her patient's whatever their circumstances and how osteopathy can help. As such, her experience and knowledge extend beyond the treatment of sports men and women. Many of Camilla's pre and post natal patients have benefited from her previous training in the Tupler Technique and subsequent research in Pregnancy Related Pelvic Girdle Pain.
Camilla says, the most challenging and insightful moments of her career in manual therapy has been her work with adults and children with neurological disorders such as Multiple Sclerosis and Cerebral Palsy. Ultimately, she loves the challenge of working with each individual's unique biomechanics in order to help them achieve their goals, whatever they may be.